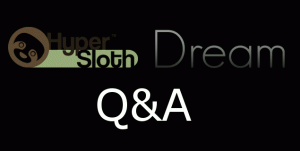 'Bedroom coders'. The term that defined a generation of dreamers, hell-bent on overcoming the trials of 8-bit computing to create their own games. The 80s were a blissfully innocent era in gaming history. The electronic entertainment industry was still young, built on mail-order cassettes with photo-copied instruction inserts. 
In today's million dollar, blockbuster gaming landscape, digital distribution is breathing life back into Independent Gaming. XBox Live Arcade, Flash, Mobile Gaming and Steam have all contributed to a recent resurgence in Indie games, where the essence of those 8-bit coding heroes lives on in titles like Super Meat Boy and VVVVV. Greenlight is the logical progression for Steam's Indie-nurturing platform, providing a bridge between hobbyists and small-time developers via the magic of crowd-sourcing.
One of the very first developers to take advantage of Valve's new showcase are 3-man UK-based (Huddersfield to be exact) group of friends and developers going by the name of Hypersloth. Their debut game 'Dream' caused quite a stir when it appeared a month ago. 2 weeks later, they were picked as the first batch of games to receive a slot in the Steam ecosystem, once they've finished the game of course. Oh yeah, they also promised to ship with full support for the Oculus Rift.
I wrote to Sam Read, Game Designer and spokesperson for the startup team asking for an interview to discuss the game and why they chose to join Oculus' VR revolution.
RiftVR: Can you tell us a little bit about Hypersloth, how it came to be and something about you and your fellow team members?
Sam: We are a three man student team who have just finished our second year at Huddersfield University, now on our placement year we decided to start HyperSloth, this was due to industry placements being out of reach due to all of the tragic lay-offs.
RiftVR: Where did the idea for Dream come from, which team member get's the kudos?
Sam: Our Lead Artist, Lewis Bibby, wanted to develop an exploration game based around exploring lucid dreams. At the time I found this genre a little tedious and boring, so I took it on as a challenge to make a game that I liked still based strongly around discovery. I am also a massive 'Alice in Wonderland' fan so creating a dreamland sounded great to me.
RiftVR: Describe Dream to us. What do you 'do', if anything?
Sam: You explore the main characters dreams to try and find out who you are and what you want to do with the rest of your life. We really try to reward the player for exploring the environments with extra narrative and items that can be used later in the game, but there are also a lot of puzzle and horror elements to the game.
RiftVR: You cite your inspiration for Dream (among others) as 'Dear Esther'. What elements of that game did you try to capture and inject into Dream?
Sam: We take much more inspiration from LSD: Dream Emulator and Yume Nikki as those are two great games that I think many have forgotten about. When it comes to Dear Esther we loved the atmosphere they built, we want the player to feel as drawn into our world as we did with theirs.
RiftVR: In terms of Art Direction, what was the target vibe / feel for Dream? What influenced those?
Sam: Really it just came naturally, we where very weary of the uncanny valley so we were never going to go hyper realistic, the three off us just modelled and textured in the same style and it stuck. Luck really.
RiftVR: You seem to have highlighted the importance of the game's soundtrack by putting it up for download at launch. How important is music to Dream and what were your influences?
Sam: The music through out the game is very important as it helps bring the player into our world. We are very happy with the music our composer, Norman Legies, has made for us so far and can't wait to share it.
RiftVR: What are your feelings on Steam Greenlight as a platform for independant coders like yourselves to get their games 'out there'.
Sam: We think its great, and was needed. We announced/launched our game on Greenlight so for it to take off so fast on there just shows what an amazing platform it is.
RiftVR: You're planning on supporting the Oculus Rift VR HMD 'out of the box'. What do you like about it?
Sam: We love the fact that it takes you even further into the game. As an exploration game we want people to look around the world, and now you can physically do that!
RiftVR: Have you had a chance to try it for yourselves?
Sam: No, not yet sadly

but we know enough developers in the industry to know we have to have this new toy.
RiftVR: Are you in contact with the Oculus team? Have they helped you plan for your Rift support?
Sam: No, but again those are busy guys and we have been a company now for four months, I think we still need to prove ourselves before we can get that phone call, but I'm looking forward to it.
RiftVR: Do you have a firm release date set?
Sam: Around this time next year.
RiftVR: Do you plan to introduce special events or settings to the game that really bring out the VR feeling? Looking down into an abyss, putting the player into a claustrophobic scene etc?
Sam: We already have (laughs) the first time we ever showed gameplay was at Eurogamer, here the players got the experience an area called 'The Catacombs'. Two sections of this we hope lend themselves to the Rift, the first is nearly full of sand, this means it is very claustrophobic down there, the second is filled with a hallucinogenic gas which moves the camera in odd ways, we wanted to see if we could turn some stomachs.
RiftVR: Are you aware of some of the problems that VR games could have and how will you address them?
Sam: We are, but this is an added extra, we understand the majority of players will be playing with a normal screen or in 3D.
RiftVR: Any info whether special control schemes like the Razer Hydra or the Novint Falcon will be supported?
Sam: Not currently, we would love to support everything but as a tight time schedule comes with being a student we can only do so much, but we will try.
RiftVR: Are you likely to support the Dev-kit Oculus Rift from launch or will the consumer version be your focus?
Sam: We are planning on both, but the guys at Oculus will be a big part of this and we haven't sat down and talked with them yet.
RiftVR: How will the use of virtual reality specifically contribute to the game experience of Dream? Is there a gameplay advantage of using the Rift compared to playing it on a monitor or tv-screen?
Sam: I wouldn't call it a advantage, it will just magnify the experience you will have. The horror sections will be scarier, the abstract sections will feel more surreal.
RiftVR: As you cite 'Dear Esther' as a key influence, do you view Dream as a semi-passive experience with a strong narrative?
Sam: Not at all, we have very strong gameplay hooks. Narrative is very important to us but we have brought in a lot of things from other genres, also as you are in your own Dream we wanted to player to feel in control, not standing by watching the world.
RiftVR: What did you do when you found out you'd been greenlit?

Sam: Emailed Valve and asked if they were joking, then when it was confirmed we got doughnuts.
RiftVR: You recently attended the Eurogamer Expo 2012, what was it like? What was the feedback you received?
Sam: It was amazing, we got to meet so many devs and fans. The feedback also helped a lot, it was the first ever time we had shown gameplay so we really didn't know what was going to happen, but people seemed to like it which was a great feeling.
Many thanks to Sam for taking the time to answer those. Hopefully we'll be hearing a lot more from them in months to come.